The DQ Modus 5 Column Radiator has a timeless design, taken from its cast iron forefathers it has all the style of a cast radiator with the benefits of steel. This is a Made to order piece, each section is 46mm width. Please see below to workout your sizes.
The DQ Modus can be used for both modern and period style applications, coupled with a vast array of sizes and fixings available, the Modus is one of the most versatile radiators on the market. It comes in a range of finishes including White, RAL Colours & Special Finishes.
The Modus can also be manufactured as a curved or angled radiator, ideal for bay windows etc. Please contact our sales office hello@greatrads.co,uk for pricing and assistance.
Made from Mild Steel
Guaranteed by DQ for 5 years
Delivery: Made to Order in 4/6 Weeks
Fuel Option: Central Heating

Measured Δt 50°C

Available in 2, 3, 4 & 6 Column

Available in White, RAL Colours & Special Finishes
Special Finishes include RAL Colours please see chart in link below:
https://dqheating.com/collections/column-radiators/modus/
 If you require a RAL colour please place your order under RAL Colour and from here you will be contacted via email to confirm your colour with the DQ RAL colour chart.
To view the full Modus Range , Please Follow
https://www.greatrads.co.uk/pages/search-results-page?q=dq+modus
Additional Extras
for feet please follow 
https://www.greatrads.co.uk/collections/radiator-valves/products/dq-modus-brackets 
MODUS CAST FEET , MODUS WELDED FEET & MODUS SLIP ON FEET
Valves
https://www.greatrads.co.uk/collections/radiator-valves  
Pipework coming from floor - Angled Valves
Pipework coming from wall- Corner Valves
Sleeving Kits / Pipe Covers 
Finish off the look with our sleeving kits, making your pipework look fresh and matching your shiny new valves, Please follow
https://www.greatrads.co.uk/collections/radiator-valves/products/130mm-and-300mm-sleeving-kit-various-colours
If this item is out of stock at the time of purchase you will be contacted via email.
 **Radiator is supplied with brackets, blanking plugs, airvents, fixing screws, rawl plugs**
Heating & Sizing Outputs

Specifying your Modus Radiator:
Choose column depth.
Choose height (H).
Calculate number of sections – to do this, take the Btu output of chosen section and height from spec table then divide your required output by this number.
Choose fixings.
Specify if different from standard 1/2" bottom opposite end connections in RAL 9010 (white)
e.g. you require a Modus with an output of 6000 Btu to heat your room
You have chosen your column depth of 4 columns.
Chosen your height of 500mm.
Calculated your required number of sections (4.500 = 247 Btu, 6000 / 247 = 25 sections).
Decided on wall brackets.
With 1/2" bottom opposite end connections as standard in RAL 9010 (white).
So, to meet your requirements you would need to order:
Modus 4.500 x 25 sections in RAL 9010 (white) with wall brackets 1/2" bottom opposite end connections.
Output will be 6175 Btu (25 sections x 247 Btu)
Length will be 1174mm (25 sections x 46mm per section + 24mm for reducing bushes).




TECHNICAL INFORMATION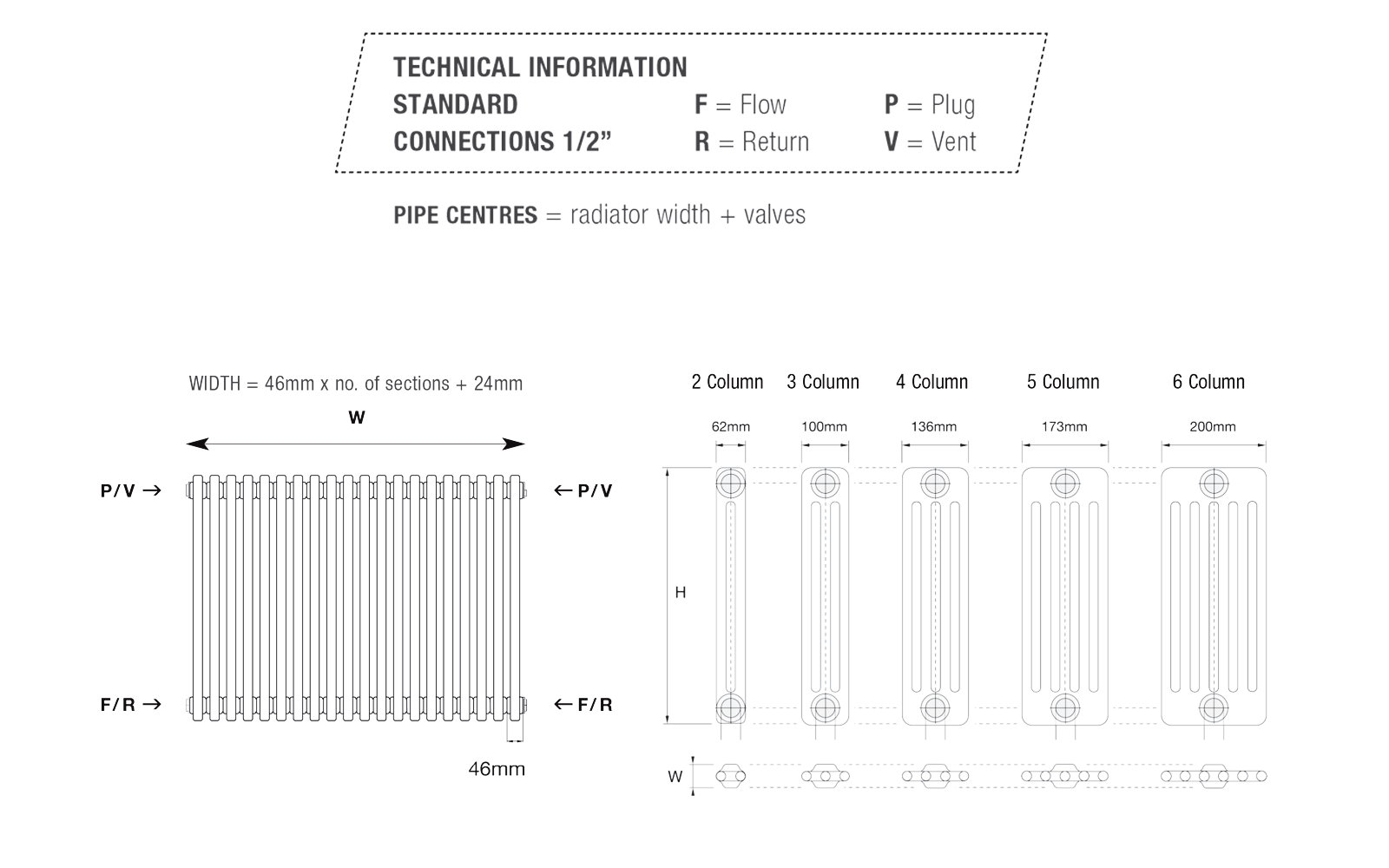 DQ Modus 5 Column Radiator
*Free Delivery to UK Mainland.
For the Scottish Highlands, Northern Ireland, Isle of Wight and Channel Islands please contact us as additional costs might apply.
Scottish Highlands postcodes are KW, IV,  FK, AB, DD, PH, PA and ZE
Guernsey postcodes are GY; Jersey is JE.
PO is the Isle of Wight, and IM and TR the Isle of Man.
Northern Ireland postcodes are BT.
Our website may show FREE delivery to mainland UK - this refers to the above definition.
We also deliver to the Republic of Ireland. The cost of this is an additional £30. Just select Ireland from the drop down on the shipping screen and will it calculate this in.
We are happy to ship our products internationally. We currently send to over 30 countries; some of which include:


United States of America
Ireland
France
Belgium
Netherlands
Germany
Spain
Italy
Poland
Denmark
Sweden
Norway
Finland
Poland
Switzerland
Canada

And many more countries.
Please contact us and we can provide a quotation.
Here at 
Great Rads
, we strive to bring the best service, and experiences for 
all
 our amazing customers, and below are some of their reviews: